Overnight Plain Soft ID Holders In Stock
Competitive Pricing

We have the best prices in Canada. Request your 100% free quote today!

Free Artwork Services

Why do it yourself? Leave the work to us and get free mockups before ordering!

Fast Turnaround

Our speedy production helps get your order to you faster! Request rush service to get it ASAP!
Product Highlights
Try these protective soft PVC ID card holders with your next order of lanyards and keep your ID safe, clean and secure!
Common Sizes Available:
Portrait Pouch Size 60mm x 90mm (recommended standard business card size insert 54mm x 85mm)
Landscape Pouch Size 90mm x 60mm (recommended standard business card size insert 85mm x 54mm)
Portrait Pouch Size 82mm x 105mm (recommended insert size 75mm x 100mm)
Landscape Pouch Size 105mm x 90mm (recommended insert size 100mm x 80mm)
Portrait Pouch Size 105mm x 150mm (recommended A6 card size 100mm x 145mm)
Product Highlights
Common Sizes Available
Choose from different sizes depending on your needs, all these card holders come with a slot in the middle for an accessory clip. For those who make use of a double ended lanyard or similar item, the dual holes in the corners are perfect for dog clips. We carry a wide variety of options, as the ID holders can serve as a credit or gift card holder, a neck wallet, or simply to hold a badge.
Please consider paper thickness, or if you are inserting a booklet or thicker card into these ID holders you may need to allow for 1-2mm each side to compensate.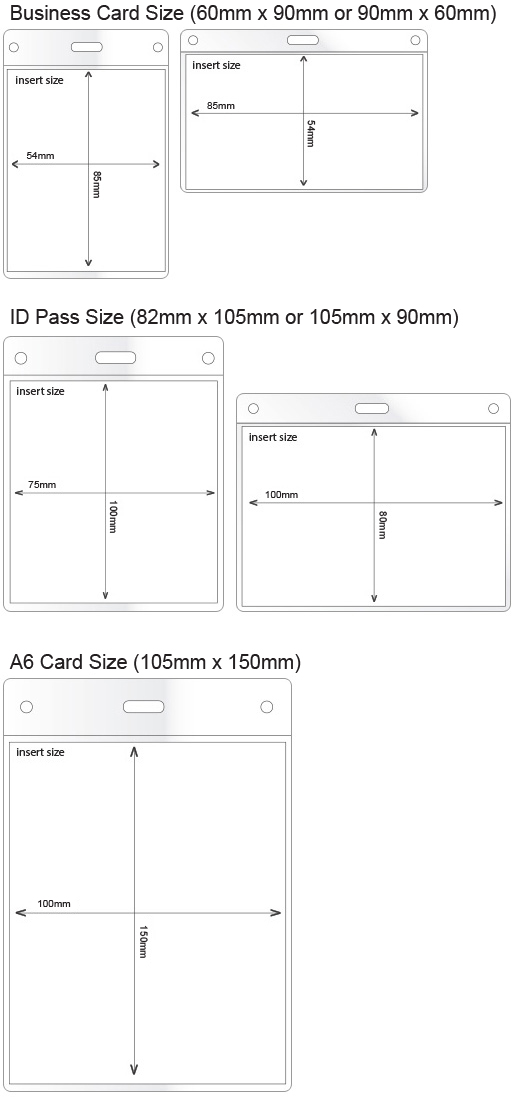 Product Highlights
Made from durable PVC with heat seams, then pre-punched at the top edge to perfectly suit a crocodile clip or single/double dog clips
(also compatible with other fittings)
Product Highlights
Our card holders are equipped with holes at the top, so they can easily be attached to a lanyard, belt, or keyring. They are clear so the user's ID will always be visible. If you're running a business or company, and your employees need to carry an ID, these PVC card holders will help keep their ID cards from getting lost or damaged.
The Benefits of Clear PVC ID Holders
Clear ID holders offer a number of benefits for the user. They not only keep the ID clean, they also ensure it holds up to frequent use. In fact, the purchase of name tag holders can actually save a company money over time, as the ID cards won't need to be replaced as often. Also, they free up the user's hands for other items, as the badge is secured, yet in an easily accessible place. The low cost makes them affordable for businesses of all sizes, and they come in several standard sizes to suit your needs.
Planning for Large Events
Even though you would expect a large number of people to turn up for an event such as a trade show, sometimes the masses can be overwhelming, especially if the event is open to the general public where people can walk in without a formal invitation. For such an event, it becomes extremely important for you to have some kind of identification and this is where getting an order of PVC card holders can turn out to be a huge advantage.
Many organizations benefit from the use of badge holders. Educational institutions find they can provide staff members with an ID and holder to ensure all wearers are easily identifiable. A company finds the badge and holder to be of help when visitors come to explore the facility, and retailers may wish to provide a badge holder with a loyalty or reward card to their customers.
Why Every Organization Should Consider Investing in Clear ID Holders
Clear badge holders will be found at events of every size and type. As there are numerous styles and sizes to select from, any organization will find an ID holder that meets their needs. Also, they are so handy that many people choose to buy these holders for other purposes, such as for holding a small notebook or an important document.
With so many ways to make use of badges and badge holders, a company simply needs to determine how many they wish to buy. Once they arrive, let the creativity flow and use them everywhere. Those that do so wonder how they lived without them in the past!