How to Order
Ordering from us is super simple! Just follow the steps below and our team will get started on your order.
We are also on standby to assist you through the order process during regular business hours — so if you have questions or need any help, simply click our chat button or call us at 519-219-2292.
Still Looking for Products?

Browse our site for any promotional products that suit your needs and add them to your Quote List.

Review your items by clicking the Quote List button, "VIEW ALL" and then "FINALIZE" to proceed.

Include your contact details along with any notes or further information that may help us personalize your quote and click "SUBMIT QUOTE" to send it to our team.

A representative will contact you for more information if necessary, or respond with a detailed quote if we have enough to start your order.

Once we receive your logo or message, our art team will provide you with a digital mock-up of your item(s) for approval.

Request changes if necessary, or confirm if you're happy with the artwork.

Your representative will issue an official artwork approval, which must be signed before production can begin.

Provide us with your shipping details if necessary, and then pay your invoice online, by phone or in person.

Your order will be sent to production and we will notify you of any important updates.

If at any point you're having trouble finding what you need, please contact us!

Already Have a Quote? Click Here

Great! Simply send us your logo or message and we'll create a mock-up of your item(s) and revise until you're happy.

Provide us with your shipping details, if applicable, and we'll issue you an artwork approval.

Sign the approval form and pay your invoice — now your items will be off to production!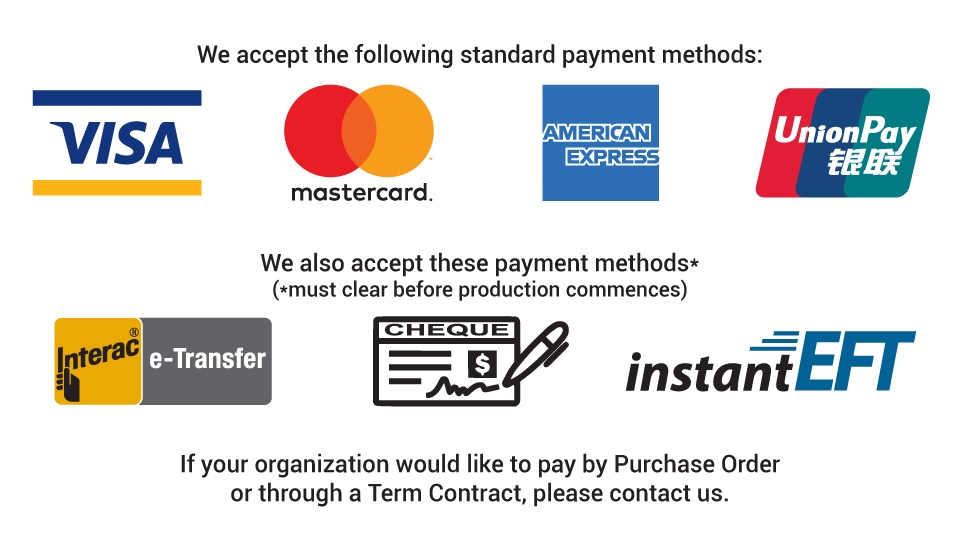 Shipping & Delivery
We charge shipping and handling for our delivery services. Shipping is charged at the same cost provided by the courier and we do not add markup. Delivery companies in use by Dynamic Gift Canada include but are not limited to: UPS, FedEx, Purolator, Canpar and DHL.
We welcome you to put our rush services to the test. We have provisions in place to deliver "in stock" items within 48 hours of order confirmation. Please contact us before ordering to confirm stock levels and service availability to your location. Standard delivery times within Canada are usually 5-7 business days. Rush delivery is subject to availability and may vary by location.
Returns & Replacements
We are committed to providing exceptional service and quality products. We endeavour to ensure that all products listed on our website are available. Clearance goods are an exception and may be discontinued at any time, without notice. Rush delivery service is available at an additional cost on most products. In the event that an ordered item is no longer available, or we are unable to fulfill your order then we will notify you within 2 business days to arrange an agreeable alternative item, schedule a back-order where applicable, or issue a refund.
Please choose your promotional items carefully. Production commences as soon as we receive payment and written approval. Beyond this point we do not provide refunds if you simply change your mind or have made mistakes during the order process. We will gladly remake goods that have been manufactured incorrectly.