Fittings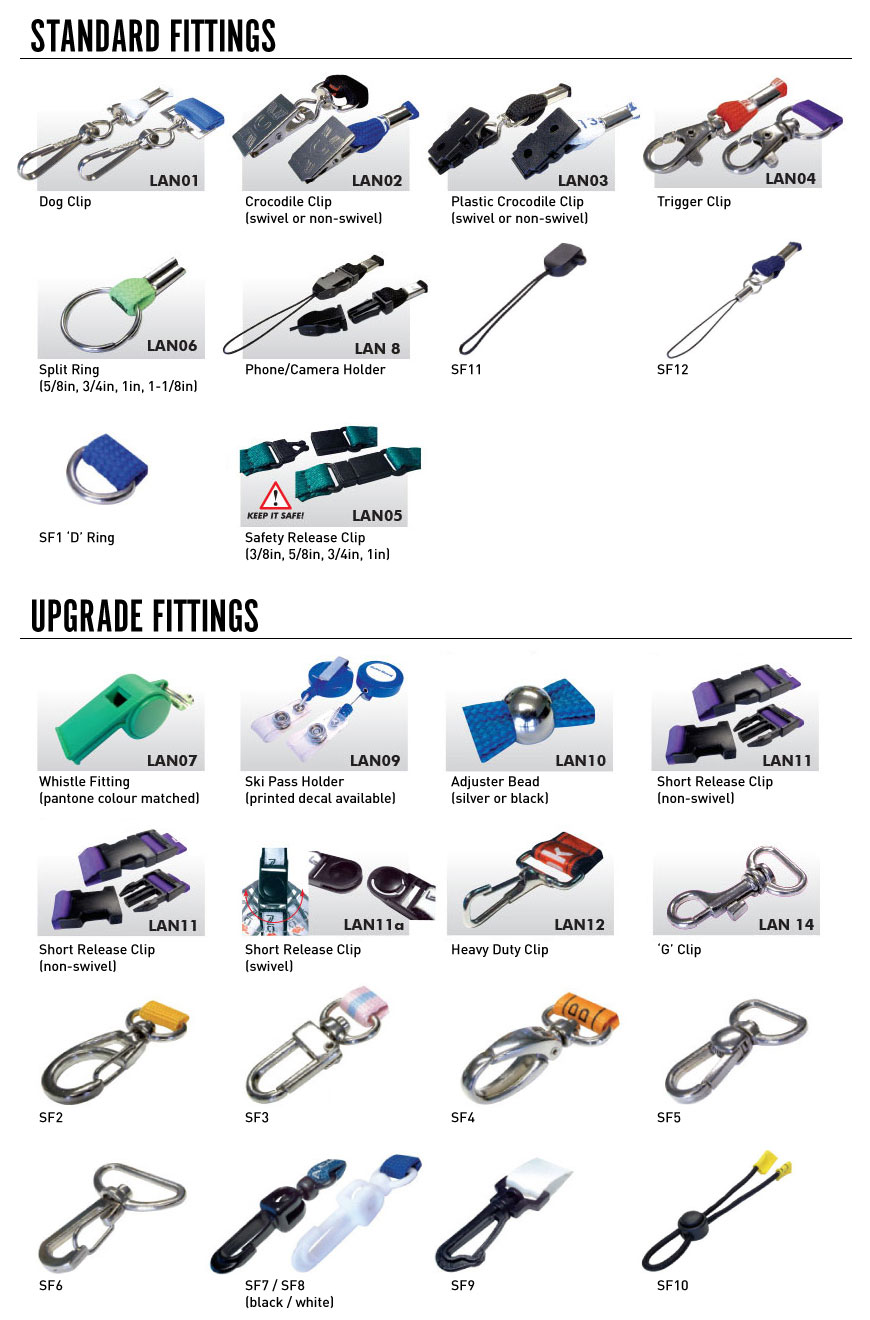 Description
Want to make sure your company name is visible at all times? Lanyards are certainly the best solution. These eye-popping statement makers are everywhere, and for good reason. Whether they be a tool for your employees to carry ID or for business associates and clients as a promo giveaway, your imprinted Lanyards will make a statement. The printed lanyards' ability to promote your brand is not where their function ends! They provide flexibility and a brilliant solution for effectively, and affordably securing your checkpoints or secure access areas.
Why Choose Printed Lanyards Made From Polyester?
Flat polyester printed lanyards, being the most common of the sort, provide high-quality and endurance. Polyester serves with good resistance, which assures longevity. The weaving of polyester allows it to be rich in colour, as well as its preservation. A polyester custom lanyard is also washable, so you don't have to worry about potential damage to fabric. The material is biodegradable too, which is a nice way to make your company's statement on the environment. In addition, it is easy on the skin and comfortable to wear.
Flat polyester lanyards come in a variety of widths: 10 mm, 15 mm, 20 mm, 25 mm (3/8 in, 5/8 in, 3/4 in, 1 in). When it comes to length, the standard is 900 mm before being sewn, or your lanyards can be custom made. In spirit of making your lanyards even more personalized, you can choose a colour from our standard palette, or if necessary we can Pantone match to the colour you prefer.
With every lanyard, you can choose a fitting suitable to your needs. Our offer includes different kinds of standard and special fittings. In its way, every fitting secures the item, makes it instantly-available and keeps your hands free.
All polyester lanyards are washable and if machine washed should only be done so with cold water and a conservative amount of cleaning product. Polyester is hypoallergenic and will not irritate the skin.
Sizes
Material Widths Available

Standard Length
900mm before being sewn. Custom lengths available.
Colours
In Stock Material Colours
Please NOTE! Other material colours are available. However a pantone dying fee may apply. Additional Print & Material Colours
Browse our pantone chart for a full range of custom dyed pantone material and print colours. Popular Addons
Popular addons and extras
Lanyards are not just for promotional purpose they serve to secure and protect your restricted areas and VIP areas. The below items are all designed to attach to our full range of lanyards. These identification carrying solutions and printed ID options are perfect for conferences and events where security is critical.
Related Products