Satin Applique Lanyards
More Views
Competitive Pricing

We have the best prices in Canada. Request your 100% free quote today!

Free Artwork Services

Why do it yourself? Leave the work to us and get free mockups before ordering!

Fast Turnaround

Our speedy production helps get your order to you faster! Request rush service to get it ASAP!
Product Highlights
Available in 10mm, 15mm, 20mm or 25mm widths
Ultra luxurious alternative to standard lanyards
Feels very substantial when worn
Highly durable due to the double material and stitch
Perfect for corporate or VIP clients
Screen print up to 5 colours, but we recommend dye sublimated lanyards for designs with more than 3 colours
Customize with fittings and clips
Designed to fit any of our ID badge solutions
Fittings
From the options below, just let us know which you would like in the notes section of our "Request a Quote" form.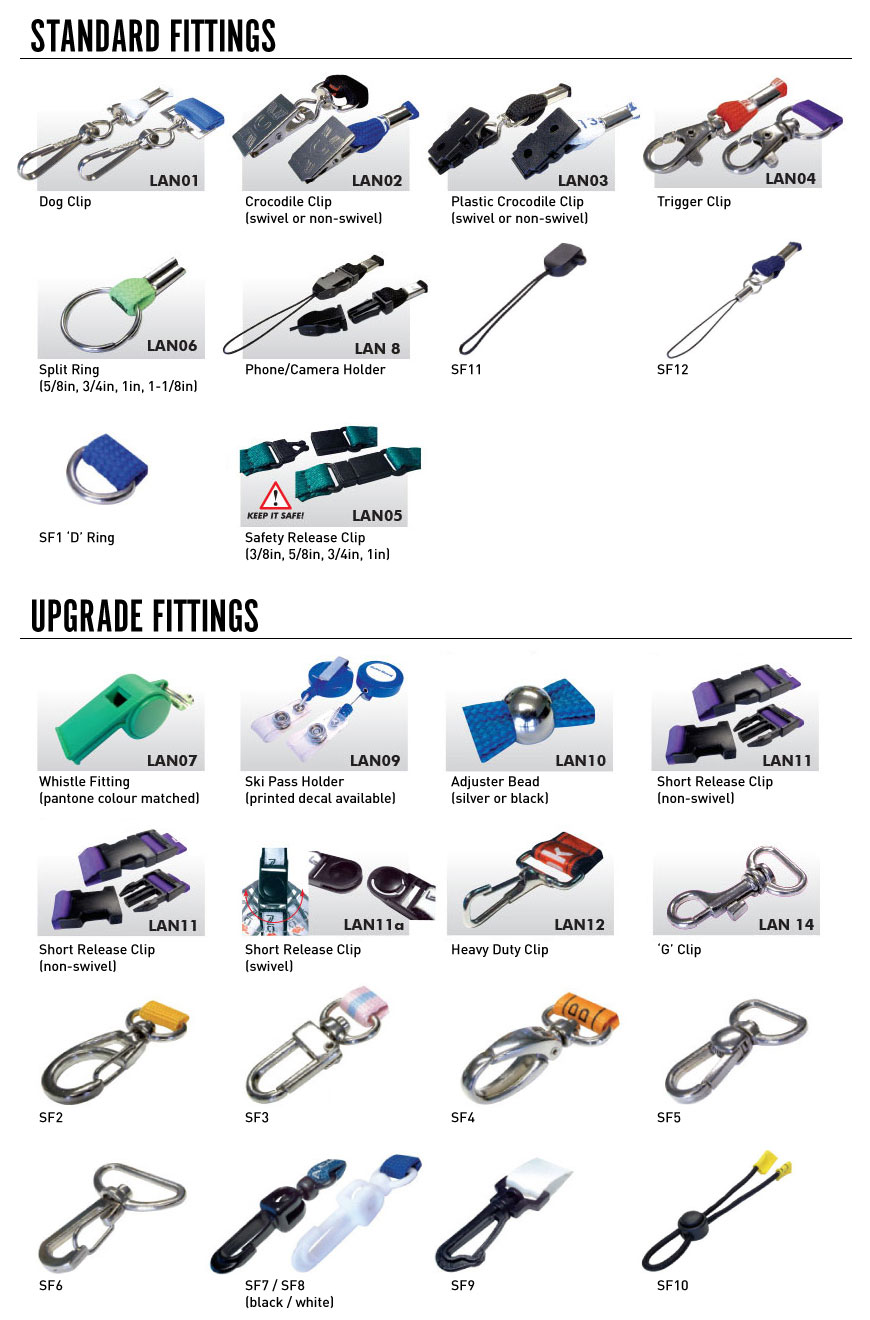 Colours
In Stock Material Colours
From the options below, just let us know which you would like in the notes section of our "Request a Quote" form.

Please note that other material colours are available, see below for more information (custom colour Pantone dye fee may apply)
Additional Print & Material Colours
Browse our Pantone chart for a full range of available custom dyed material and screen print colours. Sizes
Material Widths Available
From the options below, just let us know which you would like in the notes section of our "Request a Quote" form.

Standard Length
900mm before being sewn. Custom lengths available.
Description
Now here's a great promo gift that is affordable and highly effective. These comfortable printed lanyards proudly display your company's logo in vibrant colour for all to see. Custom lanyards are a great promo product because they are highly visible. Many companies consider lanyards to be an essential part of the corporate wardrobe, especially when carrying ID. Your company's most valued team players will truly appreciate such a thoughtful gift, and clients will love using these lanyards and showing off a brand they want to support. You can't go wrong with promoting your company in style and comfort with printed satin applique lanyards.
Why Choose Satin Applique Lanyards?
Without any effort, you can create your personal lanyards and give them away as a company gift to your subordinates, partners and friends. With that, you are also creating a mobile billboard for your company.
Satin applique lanyards are subtle yet stylish. They are made with a premium polyester base, with a strip of satin that is sewn in with a colour matched double-stitch. What finishes them off is the imprint of your logo in up to 4 colours. The alternative would be printing with a dye sub satin strip, which provides unlimited customization.
Satin Applique Lanyards: The Premium Alternative
The look and feel of satin is luxurious and an elegant choice for a business organization when choosing lanyards. This choice is made even more interesting because of the availability of satin applique lanyards that give you benefits such as:
A high quality look and feel
The option to print or weave your logo into the material
A high lustre finish that will make the lanyard stand out and improve your business reputation
Choosing the Right Combination
When choosing satin applique lanyards, it's important to choose the right kind of colour combination. Since the fabric comes in various colours which can be matched according to the pantone colour chart, you simply have to choose one that makes your logo pop. For instance, if your corporate colours are bright or pastels, then you may benefit from a dark colour or even a completely black base. Choosing the right fitting is also important. We offer clips, hooks, retractable badge reels and more. Since the satin material is going to be very shiny, you may want a metal hook or clip to complement the lanyard perfectly. Of course, consulting our professionals to help you get the best look for your satin applique lanyard is a good idea!
Heavy Duty Construction
Because the material is two pieces sewn together, it effectively doubles the strength of the lanyard. These are excellent for when a more premium look is desired. Or just when you need something more substantial is to be worn. People notice quality, so if you are trying to expand on your companies branding or just trying to get a logo or web address seen at an event or function, then satin applique is a great option for that.
Popular Addons
Popular addons and extras
Lanyards are not just for promotional purpose they serve to secure and protect your restricted areas and VIP areas. The below items are all designed to attach to our full range of lanyards. These identification carrying solutions and printed ID options are perfect for conferences and events where security is critical.
Minimum Order: 50
Pricing may vary based on quantity, print and delivery requirements. Use our quick form below for your personalized quote today!
Get A FREE No Obligation Quote
Emailed In Minutes
Frequently Ordered Together