Fittings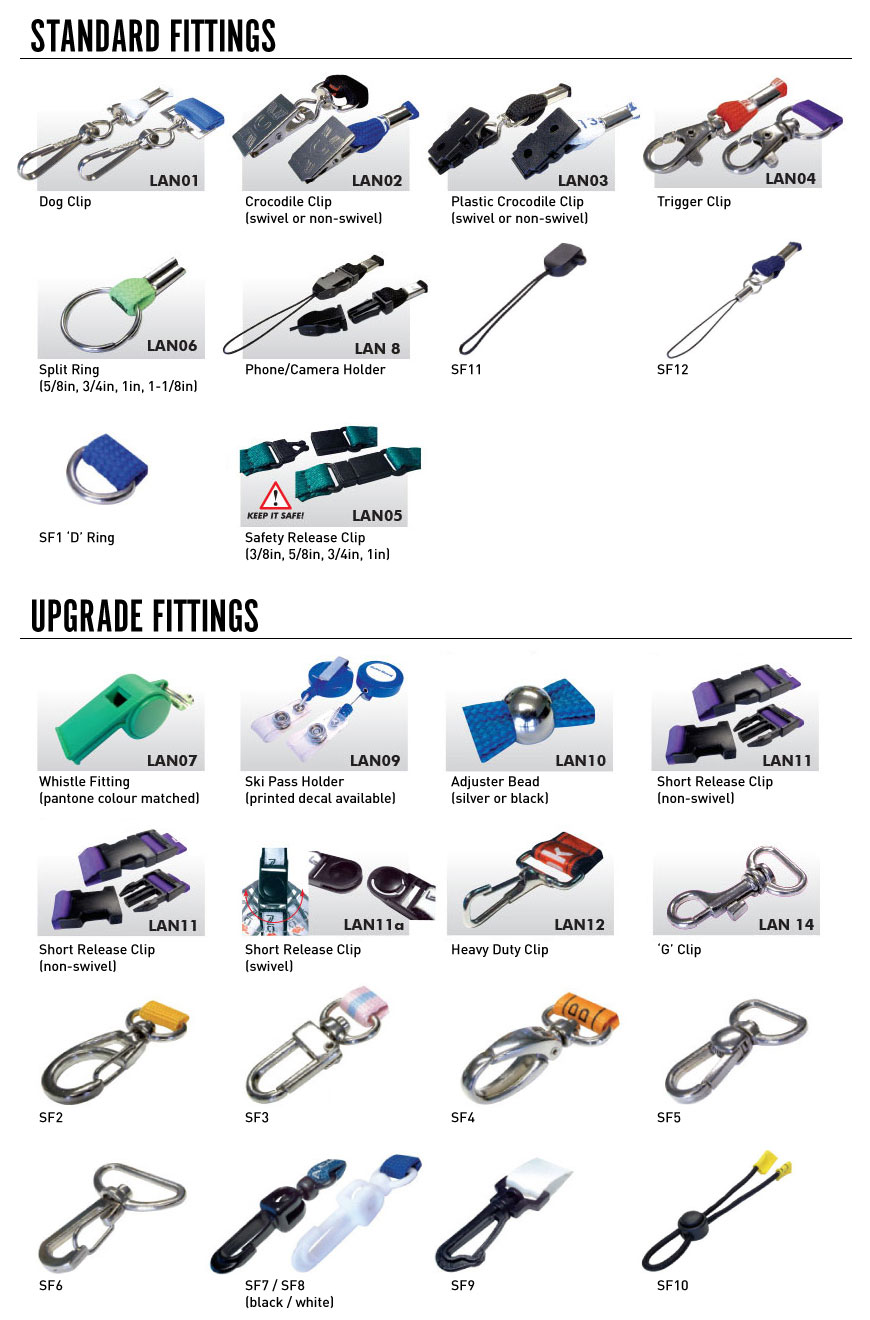 Description
We know your company's logo is extremely important to you — why? Well, it represents your brand! Your logo was designed and crafted to be attractive and inviting; and unfortunately it can be difficult to find promo products that properly display the beauty of many logos. Our dye sublimated lanyards change that, however! Created to vibrantly show full colour images, this print method offers full access to gradients and photo images. Unlimited colour on a soft, smooth, silk-like material combined with any combination of clips and fittings creates vibrant lanyards that stand out right away. Give your clients and employees a promo gift that's great for both them and your company with these fantastic lanyards.
Why Choose Dye Sublimated Lanyards Made From Premium Polyester?
In some cases, colours are not right, lines are smudged, and the overall impression is cheap and unsatisfying. So, if you decide to enrich your gift package with some uncommon items such as premium polyester printed lanyards, you'll want to make sure that it's done right. In that case, the best way to go is with dye sublimated custom lanyards from Dynamic Gift Promotions Canada!
Firstly, a custom lanyard by itself is always a hit, marketing wise. As a gift, they have a very practical outcome, because they are always popular. They can be used in a lot of different ways — as a key, ID, mobile phone or a camera holder, and they are also very stylish. For businesses, printed lanyards are a great tool, because they're practical and keep your logo visible at all times.
What makes dye sublimated lanyards extraordinary amongst similar promo materials is the optional premium full colour photo print they provide. This particular way of printing allows full control of gradients and photo images. Also, the choice of colours and shades is unlimited. Your logo will be imprinted on smooth silk-like premium polyester. This material is durable and the colours will not fade even when washed. These lanyards are available in widths of 1/2", 2/3", 3/4", 1" (10, 15, 20 & 25mm), standard length is 900mm before being sewn, with custom lengths and suitable fittings also available.
All dye sublimated lanyards are washable and if machine washed should only be done so with cold water and a conservative amount of cleaning product. Our premium polyester is hypoallergenic and will not irritate the skin.
Sizes
Material Widths Available

Standard Length
900mm before being sewn. Custom lengths available.
Colours
Print & Material Colours
Browse our pantone chart for a full range of custom dyed pantone material and print colours. Popular Addons
Popular addons and extras
Lanyards are not just for promotional purpose they serve to secure and protect your restricted areas and VIP areas. The below items are all designed to attach to our full range of lanyards. These identification carrying solutions and printed ID options are perfect for conferences and events where security is critical.
Related Products