Competitive Pricing

We have the best prices in Canada. Request your 100% free quote today!

Free Artwork Services

Why do it yourself? Leave the work to us and get free mockups before ordering!

Fast Turnaround

Our speedy production helps get your order to you faster! Request rush service to get it ASAP!
Product Highlights
Available in 10mm, 15mm, 20mm or 25mm widths
Manufactured from discarded bamboo stems!
Biodegradable and environmentally conscious
Show everyone you care about the planet
Screen print up to 5 colours,
Customize with fittings and clips
Designed to fit any of our ID badge solutions
Fittings
From the options below, just let us know which you would like in the notes section of our "Request a Quote" form.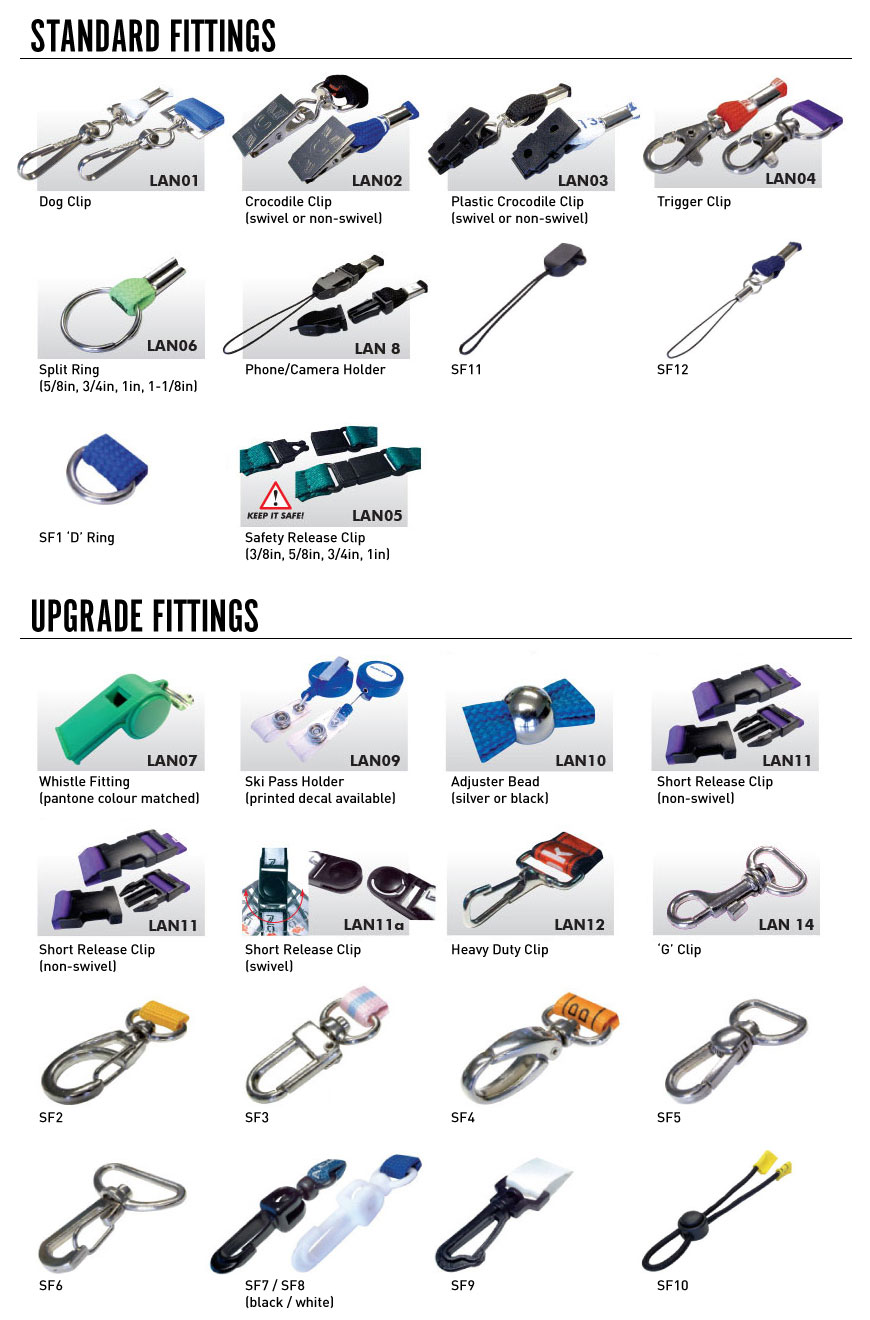 Colours
In Stock Eco Material Colours
From the options below, just let us know which you would like in the notes section of our "Request a Quote" form.

Please note that other material colours are available, see below for more information (custom colour Pantone dye fee may apply)
Additional Print & Material Colours
Browse our Pantone chart for a full range of available custom dyed material and screen print colours. Sizes
Material Widths Available
From the options below, just let us know which you would like in the notes section of our "Request a Quote" form.

Standard Length
900mm before being sewn. Custom lengths available.
Description
This product is as unique as it is functional! Bamboo fibre lanyards are the perfect way to spread earth-friendly awareness along with your brand name. Show everyone that your company truly cares about the environment! These lanyards are produced from the fibres of bamboo crop waste stems and can be printed with your logo and company colours. Promotional products are an excellent way to both further brand visibility and gift your valued employees and/or clients with something they'll love. This promotional product is sure to generate buzz about your company!
If you want to make an eco-friendly statement about your company at your next conference or trade show, custom lanyards made from bamboo fibre should be high on your priority list. They can be fitted with any of our standard fittings, such as a dog clip, crocodile clip or split ring. You can also request special fittings if the standard ones don't show what you need. In various social as well as business related events, being able to quickly identify people around you and the company that they work for, or the group that they belong to, is key. Speeding this process can be done by wearing a neck lanyard ID card. At business conventions the attendees often wear lanyards with personalized logos of their company or the institution they are represent.
With so many ways you can show your eco-friendly side, the thought extends to even the small things you do to promote your brand name and organization. So when a product such as a bamboo fibre lanyard is available, why would you choose anything else?
Why Choose Bamboo Fibre Lanyards?
In addition to being eco-friendly, bamboo lanyards make perfect sense if your company already has a 'green thumb'. Plant nurseries, landscape artists, environmental protection organizations – just a few of the businesses that will find a natural fit with a natural lanyard.
Bamboo Lanyards are:
Completely sustainable
Non-polluting
Great keepsakes even after the event is over
Available in a wide range of colours and choices
Easily customized with accessories such as various clips and retractable pullers
Choose the Perfect Combination
In order to show off your choice of an eco-friendly product, you have your custom choice of colours too! However, experts recommend leaving the lanyard in its original or natural form to better represent the Earth-conscious aspect.
You never have to worry about your carbon footprint when you choose bamboo fibre lanyards. A great design printed on a good looking product makes your brand stand out. So go ahead, choose bamboo for your next lanyard solution!
Bamboo Lanyard Benefits
Bamboo Lanyards are a great way to spread the word about your business. They can hold just about anything from water bottles to ID badges. Sustainable products can help companies find and retain customers, strengthen corporate identity, and instill unity and pride in employees.
Stronger Brand Identity
Every company has a culture, and brand identity is a critical component. Brand identity helps a company owner determine how employees and customers view the organization. It includes various factors such as the logo, mascot, colours and slogans, as well as its communication style.
Asking employees to wear a bamboo fibre lanyard as part of their professional attire can help to reinforce the company's eco-friendly status, particularly when employees encounter customers. Giving employees branded lanyards can help them portray a more professional image, and build team spirit.
More Networking Opportunities
Networking is an ideal way for company owners to tell others about their businesses. However, it's not always as easy as telling someone about the company and its products. Whether an employee is attending a networking event, trade show, or conference, a personalized lanyard can be a wonderful conversation starter. A well-designed, high-quality lanyard, printed in eye-catching colours, is sure to be noticed by potential customers.
Improved Visibility
Finding a cost-efficient way to increase a company's visibility is one of the biggest challenges for a business owner. Knowing where to make investments can be difficult, particularly where the ROI is unclear. These items are a relatively inexpensive way to increase your brand's visibility and bring out a higher return on investment.
Professional Appearance
A business owner only gets one chance to make a first impression, and most people form opinions based partially on appearance. Branding details can carry substantial weight where customers' perception is concerned, and a custom lanyard can bring together a branding effort and help make a lasting and favourable first impression.
Whether a company is building customer loyalty, improving networking opportunities, or increasing visibility, our range is a great way to achieve those goals. With durable bamboo lanyards, customers can improve brand awareness in a sustainable way.
All Bamboo fibre lanyards are washable and if machine washed should only be done so with cold water and a small amount of cleaning product. Bamboo is hypoallergenic and will not irritate the skin.
Popular Addons
Popular addons and extras
Lanyards are not just for promotional purpose they serve to secure and protect your restricted areas and VIP areas. The below items are all designed to attach to our full range of lanyards. These identification carrying solutions and printed ID options are perfect for conferences and events where security is critical.
Minimum Order: 50
Pricing may vary based on quantity, print and delivery requirements. Use our quick form below for your personalized quote today!
Get A FREE No Obligation Quote
Emailed In Minutes
Frequently Ordered Together