Recycled PET Fibre Lanyards
More Views
Recycled PET Fibre Lanyards
Competitive Pricing

We have the best prices in Canada. Request your 100% free quote today!

Free Artwork Services

Why do it yourself? Leave the work to us and get free mockups before ordering!

Fast Turnaround

Our speedy production helps get your order to you faster! Request rush service to get it ASAP!
Product Highlights
Available in 10mm, 15mm, 20mm or 25mm widths
Manufactured from recycled plastic bottles!
Highly durable and long lasting
Price includes a 1 colour print, screen print up to 4 colours
Customize with fittings and clips
Designed to fit any of our ID badge solutions
Fittings
From the options below, just let us know which you would like in the notes section of our "Request a Quote" form.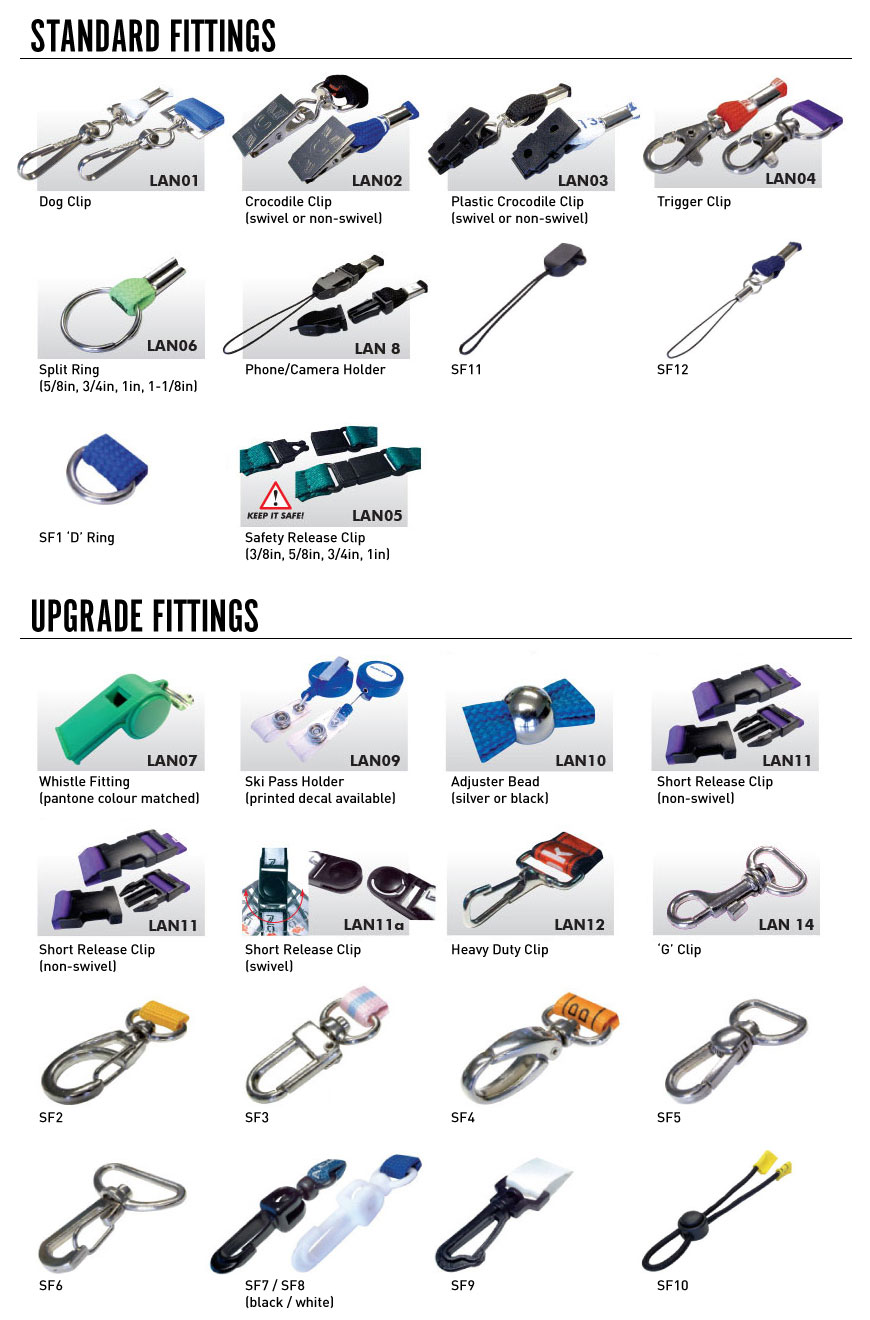 Colours
In Stock Eco Material Colours
From the options below, just let us know which you would like in the notes section of our "Request a Quote" form.

Please note that other material colours are available, see below for more information (custom colour Pantone dye fee may apply)
Additional Print & Material Colours
Browse our Pantone chart for a full range of available custom dyed material and screen print colours. Sizes
Material Widths Available
From the options below, just let us know which you would like in the notes section of our "Request a Quote" form.

Standard Length
900mm before being sewn. Custom lengths available.
Description
These custom lanyards are manufactured from recycled pop bottles and other similar plastics. That's right, recycled plastic is melted down and then wet spun into a soft polyester-like material which is used in promotional and security lanyards. Dyed to any colour you need and then imprinted with your brand. In places like trade shows, neck lanyard ID cards are often the only method of identifying the person you're speaking with. This also helps attendees who may want to speak with specific people within the company. In most cases every attendee must wear a badge in order to pass through security checkpoints, so this solution is essential.
Why Choose Recycled PET Lanyards?
There are many benefits to choosing these lanyards, which include:
Low impact on the environment
High quality and durable
All the same print colour and fitting options as our standard lanyards
Recycled products can make a big difference in the way customers view a brand, because being eco-friendly is more than just a phrase. It's one of many ways in which a business or organization can corner more of the market. This is why savvy business owners are turning to eco-friendly products like our recycled PET lanyards, which can be extremely beneficial to your business.
A wide range of different businesses, companies, and events that commonly use recycled PET lanyards. They are used by big corporations, small businesses, charity events, and concerts that want to achieve an eco-friendly status within their brand. However, these lanyards are most popular among businesses and companies that sell eco-friendly products and services. There is no better way to promote your eco-friendly brand, than to provide customers and employees with customized, eco-friendly lanyards. At the end of the day, it's also a great feeling to be a part of an earth friendly society that's paying attention to big details, even for the smallest of products.
Competitive Prices and Services
Due to our price beat guarantee, we always have the lowest prices around. If you find this product at a lower price from another Canadian supplier, simply show us the quote and we'll beat it! To top it off, our talented team of designers will create a virtual sample of your lanyards before your order goes into production, completely free of charge. You'll never end up with lanyards that you're not completely happy with. Customer satisfaction is always our number one priority.
Our recycled PET lanyards are resistant to mold and mildew. This simply means that even though they will be in constant contact with human skin and moisture, they will not fade and your logo will not wear off. Lanyards made from recycled PET fibre are durable as well. They are easy to wash, and are environmentally friendly so it helps keep plastic out of landfills.
Combine this lanyard with our range of fittings and clips to design the perfect lanyard to suit your requirements. We can screen print in up to 4 colours and also use a pantone dye on them in any colour you wish, though the natural material is more eco-friendly and provides a unique looking piece of promotional material.
Popular Addons
Popular addons and extras
Lanyards are not just for promotional purpose they serve to secure and protect your restricted areas and VIP areas. The below items are all designed to attach to our full range of lanyards. These identification carrying solutions and printed ID options are perfect for conferences and events where security is critical.
Minimum Order: 50
Pricing may vary based on quantity, print and delivery requirements. Use our quick form below for your personalized quote today!
Get A FREE No Obligation Quote
Emailed In Minutes
Frequently Ordered Together