Competitive Pricing

We have the best prices in Canada. Request your 100% free quote today!

Free Artwork Services

Why do it yourself? Leave the work to us and get free mockups before ordering!

Fast Turnaround

Our speedy production helps get your order to you faster! Request rush service to get it ASAP!
Product Highlights
Available in 10mm, 15mm, 20mm or 25mm widths
Ideal for use in hospitals or any other situation where risk of harm must be minimized
Fit with up to 6 safety breaks on a standard 900mm length lanyard
Screen print up to 5 colours, but we recommend dye sublimated lanyards for designs with more than 3 colours
Rapid production and delivery time
Customize with fittings and clips
Designed to fit any of our ID badge solutions
Fittings
From the options below, just let us know which you would like in the notes section of our "Request a Quote" form.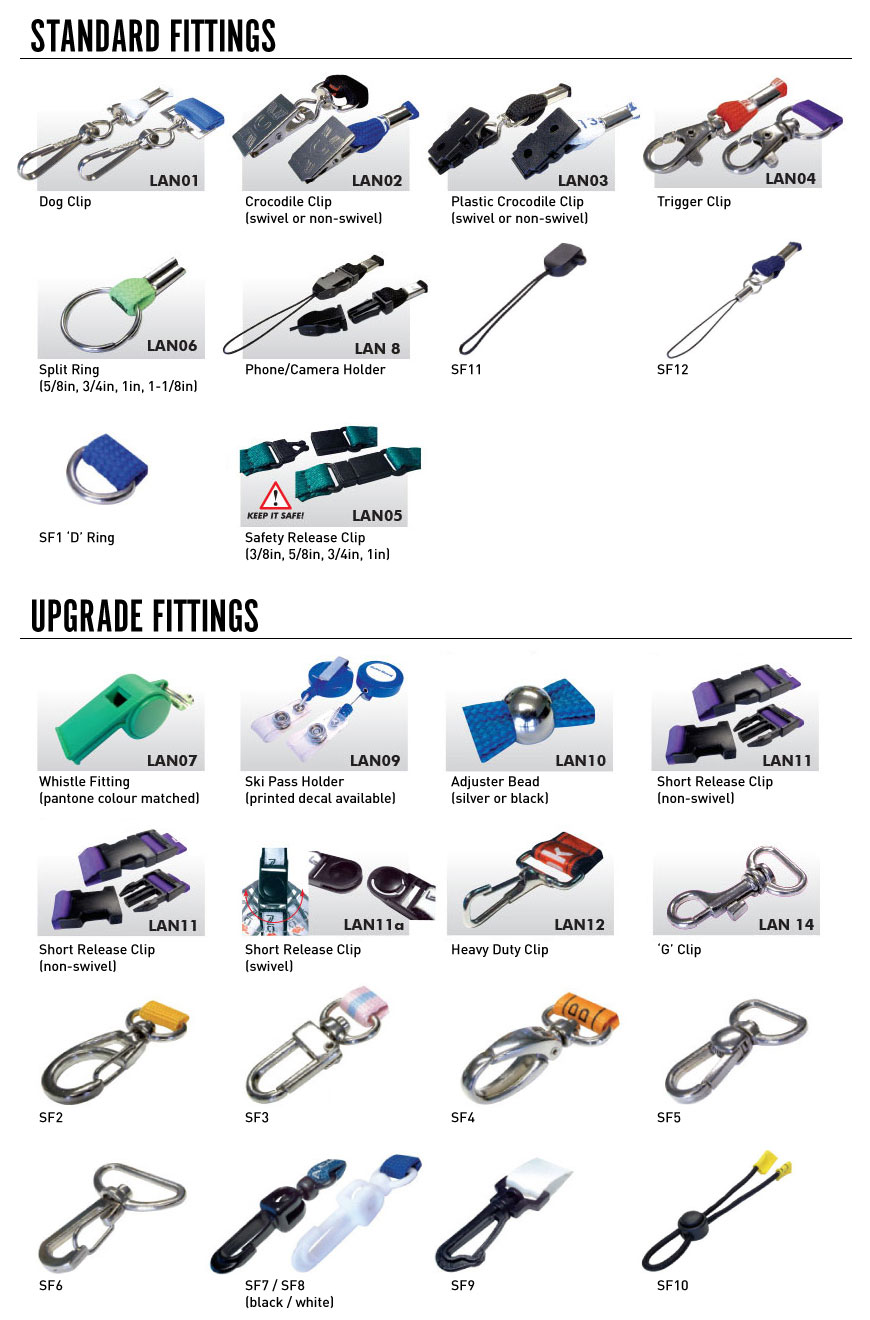 Colours
In Stock Material Colours
From the options below, just let us know which you would like in the notes section of our "Request a Quote" form.

Please note that other material colours are available, see below for more information (custom colour Pantone dye fee may apply)
Additional Print & Material Colours
Browse our Pantone chart for a full range of available custom dyed material and screen print colours. Sizes
Material Widths Available
From the options below, just let us know which you would like in the notes section of our "Request a Quote" form.

Standard Length
900mm before being sewn. Custom lengths available.
Description
Why You Should Get Custom Lanyards with Safety Breakaways
These particular lanyards are unique because they are specifically designed for safety. Safety breakaway lanyards are made with special clips that break apart when force is applied, this ensures maximum safety to the wearer. The breakaway clips allow the user to quickly release the lanyard from around their neck in case of emergencies.
Most people that work in public safety, construction, or with heavy machinery are required to wear identification at all times. So although they work in high risk positions, it is just as important for them to have visible ID for security and public safety reasons.
Breakaway lanyards are also handy for people who work in the medical field. If their lanyard gets caught and they need to tend to a patient in a hurry, they can quickly disconnect it.These lanyards are commonly handed out to employee's and staff members for carrying ID badges or access cards as a necessary part of their uniform. However, custom printed lanyards are also given out as promo products as well.
A diligent company owner will always pay attention to employee safety. This is especially important in certain sectors such as medicine or machinery and manufacturing related industries. Operating any kind of machinery with moving parts is something that an employee should do extremely carefully and one of the rules is not to wear loose fitting clothes or have any kind of accessories that may get caught in the moving parts. Sometimes though, an employee has to wear some form of identification suspended on a lanyard. But even here, you can certainly ensure safety when you choose multi safety lanyards.
Breakaway Lanyards Can Be Branded with Your Logo
Our lanyards can be customized with your company name, logo or message. We use pantone colours when imprinting on them, and the inks are made to be long lasting and eye-catching. We carry a wide range of colours to choose from, as well as an several different fitting options.
The fittings that we offer are sure to fulfill all of your professional needs. We have fittings that can secure ID cards, security cards, keys, and we even have whistle attachments. The whistle attachments are ideal for sports teams, coaches, guards, cheer squads, school bands and much more.The last thing you need is a staff members Multi-Safety lanyard malfunctioning during an emergency situation. That's why we make sure that all of the materials used to manufacture our products are made with the highest quality possible.
How Does the Safety Breakaway Work?
When you opt for multi safety lanyards, you will get lanyards that come equipped with safety clips that are placed on the sides or back of the lanyards. These safety clips can be operated in a fraction of a second. Multi safety lanyards therefore are extremely convenient even when an individual is operating different kinds of equipment. The safety breakaway fitting will ensure that the lanyard breaks if it gets lodged somewhere.
So for example if you get snagged on a piece of equipment the lanyard safety clip simply snaps open and releases you from the lanyard, this then clips back together when you need to put the lanyard back on and resume your work duties.
Lanyards with multiple safety fittings create a safe solution for your workers. It doesn't take much to become snagged on a piece of machinery, or if a fall occurs you have a better chance of landing without getting caught on the lanyard on the way down.
Highly Competitive Service, Price and Turnaround Times
Although we use high quality materials, our prices are also highly competitive. If you find these lanyards at a lower price from a Canadian supplier, we'll beat it! Lanyards and badge holders serve as tools for a lot of businesses and events. They can be used for professional or promo reasons. It's important for you to see how the final product will look. This is why we will show you a digital proof for your order of lanyards before we start making them. You'll never feel stuck with an order you aren't happy with.
Popular Addons
Popular addons and extras
Lanyards are not just for promotional purpose they serve to secure and protect your restricted areas and VIP areas. The below items are all designed to attach to our full range of lanyards. These identification carrying solutions and printed ID options are perfect for conferences and events where security is critical.
Minimum Order: 50
Pricing may vary based on quantity, print and delivery requirements. Use our quick form below for your personalized quote today!
Get A FREE No Obligation Quote
Emailed In Minutes
Frequently Ordered Together