Soft Enamel (Recessed Ink) Shopping Cart Tokens
More Views
Soft Enamel (Recessed Ink) Shopping Cart Tokens
Minimum Order: 50

Discounts may be available for larger order quantities!

Priced from

$1.25

to

$4.95

Pricing may vary based on quantity, print and delivery requirements. Contact us for your personalized quote today!
Product Highlights
A Range of trolley coins custom imprinted with your branding or logo.

With more and more stores now opting for the coin deposit on shopping trolleys. You can understand why promotional trolley coins make a very practical and convenient way of carrying your message.

Made to the exact dimensions of a the Toonie, Loonie, or 50c Coin as standard. We can Manufacture Trolley Coins to any shape or size on request.
Trolleys are some of the best promotional products any company and business can take advantage of to market and advertise their products and brands. The Trolley coins are accessed and used by hundreds of people at the stores and at the supermarkets on a daily basis. The trolley coins are a good way of marketing a brand or product because of the frequent exposure they get from being used on a daily basis. Branded trolley act as a permanent reminder of the brand to the customers who see them either when using them or when running errands in the stores and the supermarket.
Stamped enamel filled trolley coins can be branded on both sides by different companies and businesses. This is especially advantageous to the particular brands as customers can be able to view the brand from different positions, this way, more people can be able to see the brand and the more people do the better it is for that particular brand.
Pricing includes ink fill in up to 4 colours.
Description
Branding method explained
A Brilliant effect and by far our most popular style of lapel metal brand finishing. We mould your design into the shape of the coin and then fill various sectors of the design with colour matched enamel to create a vibrant, extremely long lasting and durable finish. The difference between raised enamel and flat enamel is that these badges have an almost 3d look, with raised section that are polished or sandblasted to create a more refined finish.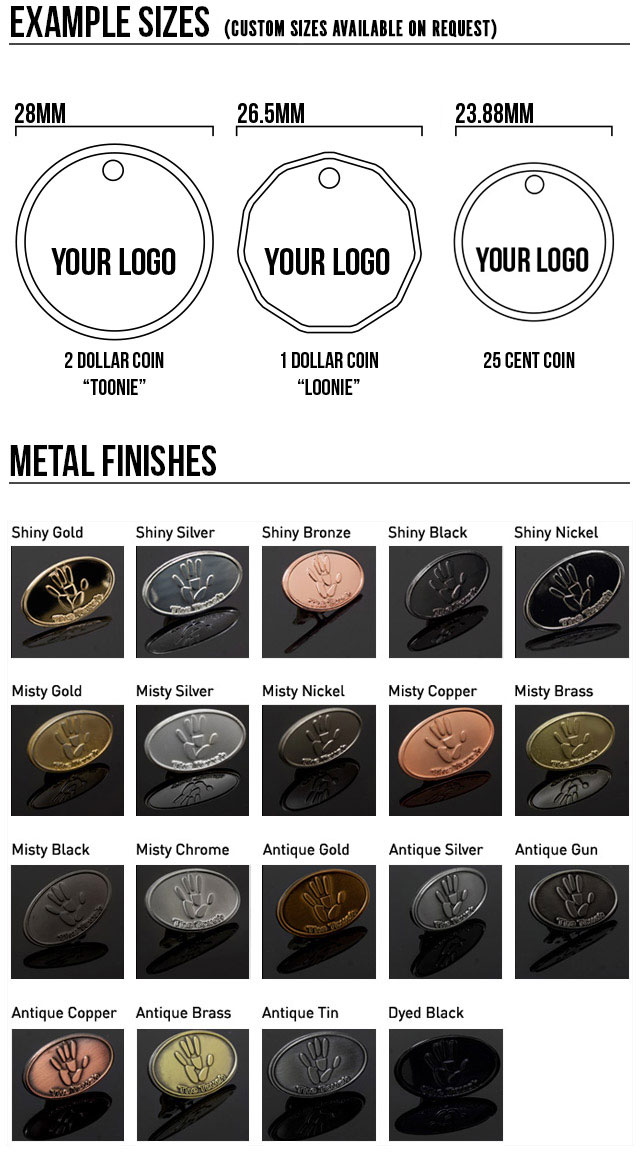 Priced from
$1.25
to
$4.95
Pricing varies based on quantity,print and delivery requirements.
Contact us below for yourpersonalized quote today!