Hard Enamel (Raised Ink) Shopping Cart Tokens
More Views
Hard Enamel (Raised Ink) Shopping Cart Tokens
Competitive Pricing

We have the best prices in Canada. request your 100% free quote today!

Free Artwork Services

Why do it yourself? Leave the work to us and get free mockups before ordering!

Fast Turnaround

Act now! Get your order in as few as 5 days! Ask for rush service to get it even faster!
Product Highlights
Promotional Trolley Coins are becoming more and more popular as a replacement to the coin deposit required at so many supermarkets these days.
It is easy to personalize your flat enamel photo etch trolley coins to the specific brand requirement that you might need. These flat enamel photo etch trolley coins a suitable item as it has space for creative logos and slogans or even a company's information. The companies and businesses are able to bring creative ideas of the brand logos and slogans to life through printing on our flat enamel photo etch trolley coins.
They are also a good option for promoting the brand of the business as it can be carried in various places by the customer who uses it. Since flat enamel photo etch trolley coins are so easily portable, this gives the brand more recognition and exposure through the customer who carries it to various places, making these coins an exceptional promotional item.
Pricing includes ink fill in up to 4 colours.
Description
Branding method explained
A Brilliant effect and by far a great solution for colour filled trolley coins. We mould your external shape and then fill various sectors of the design with colour matched enamel to create a vibrant, extremely long lasting and durable finish.
A Range of trolley coins custom imprinted with your branding or logo. With more and more stores now opting for the coin deposit on shopping trolleys. You can understand why promotional trolley coins make a very practical and convenient way of carrying your message. Made to the exact dimensions of a the Toonie, Loonie, or 25c coin as standard. We can manufacture trolley coins to any shape or size on request. Trolley coins when customized can also be used in various events like charity events and trade fares. Companies can create their logos and slogans in creative ways and print the logos on the trolley coins photo etch. The trolley coins photo etch since they are products that are used in public will be able to give the brand more exposure. The trolley coins can fit creative logos and slogans because they have adequate space for branding. Companies can purchase the trolley coins photo etch on wholesale and print them with their desired logos, they can then distribute the trolley coins photo etch to their customers in the various events and trade fair shows. This kind of exposure will certainly give the company a high return on investment compared to the companies that invest in making the trolley coins photo etch their promotional products. Promotional products such as this can also serve as products that create good will between the company and the customers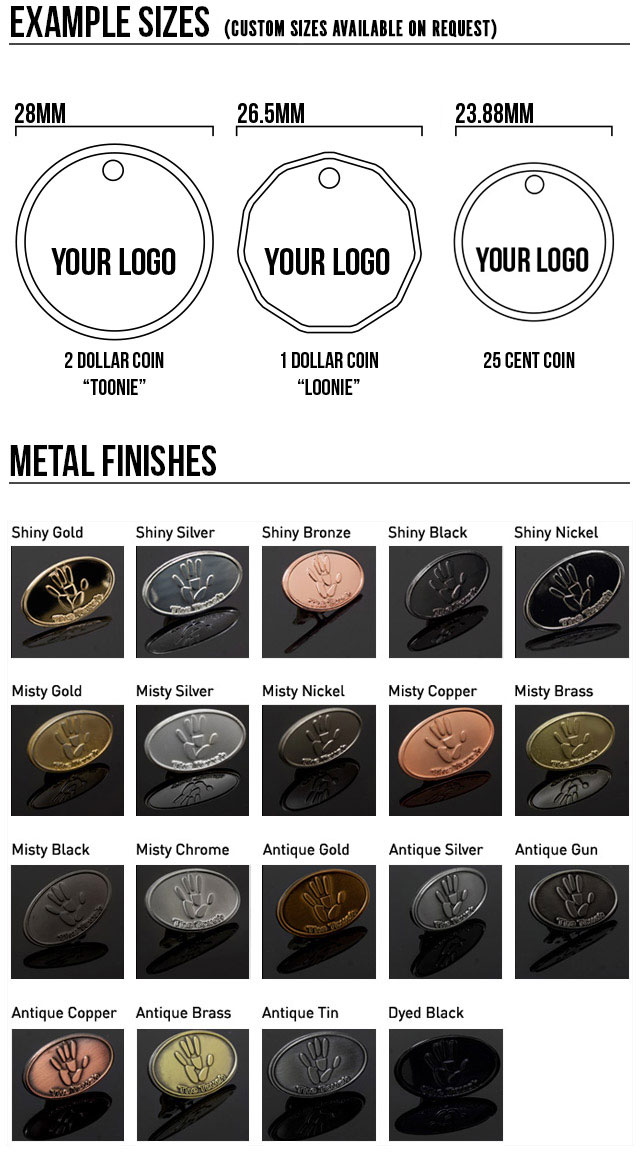 Minimum Order: 50
Pricing may vary based on quantity, print and delivery requirements. Use our quick form below for your personalized quote today!
Get a FREE quote emailed FAST!