Description
Challenge Coins and Their Use for Your Business
An excellent branding option, Commemorative Coins have long been used by a variety of different businesses. These unique, high-quality coins can create a memorable impression on customers, employees, or sports team members. They have unlimited uses and can be completely customized to meet your needs. We offer a huge number of options, so you can create coins that will be cherished by whoever you give them to.
How are the Challenge Coins Used?
Challenge coins are a type of commemorative coin often given to those who complete a challenge, though they have a military meaning as well. They're perfect for gifts as well as in recognition of achievements. These coins can also be used to commemorate an elite membership for those who are in a special club or a part of a special type of employment, such as police officers or firefighters.
Past Challenge Coins
Historically, challenge coins have been used frequently in the military. Each branch or special unit had their own unique coin which could be shown to others as a way of proving which unit the person belonged to. They've also been used by police officers, firefighters, and those in social clubs to show who is part of the club or job. These coins have been used in numerous ways throughout the years and are still treasured items by those who have them today.
What Organizations Might Use Challenge Coins?
Commemorative coins can be used by just about any type of organization, though they're frequently used by sports teams as rewards for certain achievements or for those who participate on a team together. They can be used for non-profit and charity organizations to give away to those who donate a certain amount or to those who volunteer a significant amount of time for the organization. Military and government officials may also choose to use commemorative coins in recognition of belonging to a certain group or of achievements.
Options Available Today
Today, you have many different options if you'd like to purchase coins for customers, employees, or anyone else. They can be completely customized to meet your needs. Choose whether you want a design on one or both sides of the coin, the type of metal you want to use, the size of your coin, and the enamel color. You can also create the artwork used on your coins to make sure they're exactly what you need. No matter why you're interested in these coins, you can create a coin that's going to look fantastic and be treasured by the recipient.
Challenge Coins are a fantastic way to recognize achievements, denote who is in a certain group, job or club, or for making a lasting impression on customers. If you're ready to create the perfect coin, make sure you investigate the options we have available today. We can help you create high-quality, beautiful coins that are perfect for whatever use you have in mind, and we can make sure they're shipped to you as fast as possible. Contact us today for help designing the perfect challenge coin.
Branding
Branding method explained
We offer all the exact same branding methods on these medallion coins as our range of medals suggests. Stamping with enamel fill, dome badge finish, full colour printing and even laser engrave or combination metal options. Browse our range of medals to see the various types of metals and branding styles available
Metal colours and finishes available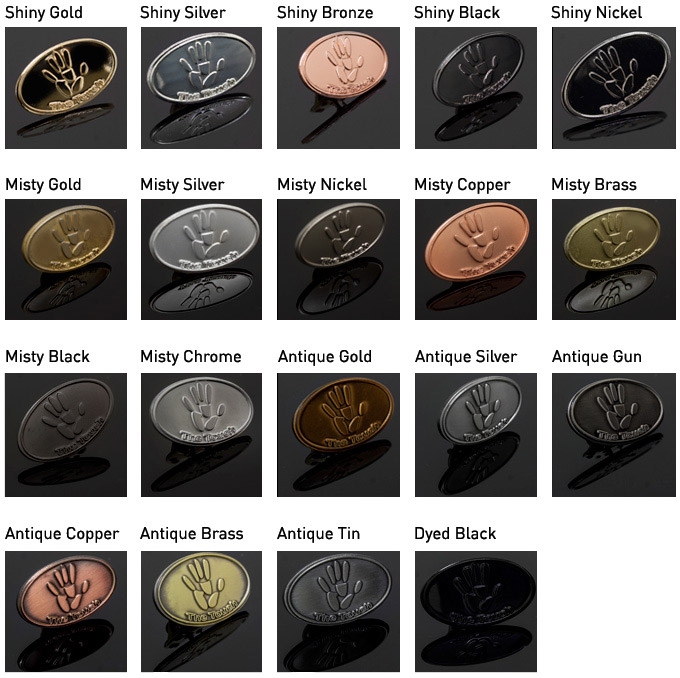 Related Products