Competitive Pricing

We have the best prices in Canada. Request your 100% free quote today!

Free Artwork Services

Why do it yourself? Leave the work to us and get free mockups before ordering!

Fast Turnaround

Our speedy production helps get your order to you faster! Request rush service to get it ASAP!
Product Highlights
Pricing varies based on flag size and whether single or double-sided print. Please request a quote to get your personalized price.

Made in Cambridge, Ontario
Quality fibreglass pole & pivot bearing
Tent mount, stake or cross base
(your choice of one option)
Carry/storage bag included
Need advertising for your store, outlet or event but on a tight budget? Teardrop flags are an excellent option. These flags are highly visible to ensure maximum exposure and they work well for both indoor and outdoor applications. This makes for an amazing deal at an affordable price.
Product Highlights
Our Canadian made custom printed advertising flags are available in 4 standard sizes: 7ft (2.1m), 9ft (2.7m), 11ft (3.4m), and 14ft (4.3m). Please see below for a visual guide to help select the best teadrop flag size for you.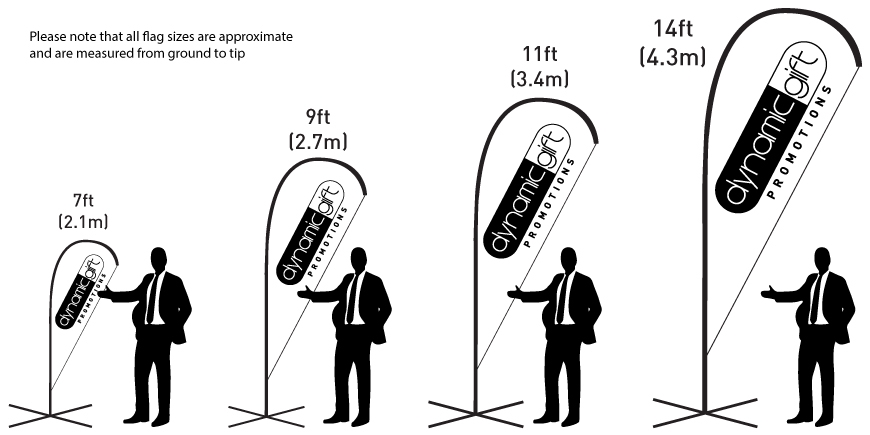 Product Highlights
Dye Sublimated Full Colour Print
Product Highlights
Materials
Steel framework, stackable fibreglass poles, knitted German mesh flag. The above fittings are in-stock items and readily available for standard delivery. The above fittings are custom order items and subject to longer delivery times.
Wind Rating*
When using an optional water weight or sand bag with your cross stand base, this adds approximately 9kg of weight to your flag base, which offers a higher degree of stability to the flag.
Small - 38km/h (with Cross Stand A, B, C, or D); 75km/h (with Cross Stand & Water Weight / Sand Bag)
Medium - 30km/h (with Cross Stand A, B, C, or D); 60km/h (with Cross Stand & Water Weight / Sand Bag)
Large - 22km/h (with Cross Stand A, B, C, or D); 48km/h (with Cross Stand & Water Weight / Sand Bag)
Wind ratings for stakes are dependent on ground density, and how well the stake has been pushed in to the ground.
Small - 75km/h (with Ground Stake / Screw-In Stake)
Medium - 65km/h (with Ground Stake / Screw-In Stake)
Large - 60km/h (with Ground Stake / Screw-In Stake)
*Please note that wind ratings are an approximate guide only. Dynamic Gift cannot be held liable for any damage caused by incorrect assembly, exposure to extreme winds, or being poorly secured to the ground.
Product Highlights
A Guide to Teardrop Flags
Teardrop flags and other types of outdoor advertising are excellent at trade shows, fairs, and other events. These events allow companies to promote products and services while networking with like-minded people. Just as with indoor conferences, an outdoor trade show booth must stand out from all the rest to attract customers. Custom teardrop flags are ideal ways to display a company's slogan, logo, name, or advertising message, regardless of the weather outside.
An Assortment of Styles and Sizes
Teardrop flags can use eye-catching designs to ensure their visibility to clients, visitors, and customers. Ours are available in multiple styles and sizes, and no matter which one a customer chooses, they're all durable enough for long-term outdoor use throughout Canada.
Easy Assembly
Assembling custom teardrop flags can be confusing, particularly for those doing it for the first time. However, by buying from a reputable seller, customers are assured of getting banners that are easy and fast to assemble. When it is time for a new design, simply place an order and get a new flag that slips right onto the current pole.
Quick Interchangeability
Business owners may re-evaluate their outdoor advertising efforts several times per year, and teardrop flags can quickly be changed to suit the season. Whether the company is promoting a holiday sale or a clearance event, they can use teardrop banners to get the message across.
Outdoor Advertising
When customers drive past a business, they may not notice it, particularly if the owner counts on them to see a sign on the front of a building. To properly read a sign, the driver has to take his or her eyes off the road, which can be distracting and dangerous. However, printed teardrop flags change everything. They're portable, easily rearranged, and especially effective for roadside use.
Whether a customer chooses single- or double-sided, passing drivers are sure to see a waving teardrop flag. These outdoor advertising tools are not just for brick-and-mortar stores, they can be used at trade shows, fairs, and other outdoor events. Banners and flags are a real attention-grabber at farmers' markets, sporting events, concerts, and more.
Use Teardrop Flags at Indoor Trade Shows
Indoor advertising is just as important as outdoor promotion, particularly if a company is setting up a trade show booth. With traditional hanging signs, the company owner depends on visitors to stop by the booth to see what's available. Some of the biggest trade shows host hundreds of different booths, which means some may be overlooked. However, teardrop flags can increase a booth's visibility and get attendees talking.
Instead of waiting for visitors to stop by, the vendor can quickly and easily set up a teardrop banner right next to the booth. Flags can be oriented to face oncoming visitors, which means they will be able to read the flags' messages without stopping and looking into the booth. Just as with outdoor exhibits and displays, a teardrop flag can be attached to an indoor display for above-the-crowd visibility.
Promoting Special Deals and Discounts
Whether a company uses teardrop flags indoors or outdoors, they can be completely customized. That means a customer can design a banner around the current promotional effort rather than the business as a whole. Instead of the company's name and logo, consider printing these banners with information on current specials and discounts. Does a barber want to offer a half-off haircut on Friday? Are an auto shop's oil changes offered at a discount as a way to bring in new customers? Regardless of the business type, teardrop banners are an ideal way to show new and returning customers how they can save money by visiting a Canadian store.
While there are many ways to get an advertising message across, none have quite the same visual impact teardrop banners possess. These flags are made of durable materials, and they can be printed with a company's name, logo, contact information or advertising message. Teardrop flags can stand up to the harshest Canadian weather, and they can provide years of advertising for any business. With these versatile and reliable banners, a company of any size can spread the word about its products, discounts, and services.