1.5x1.5m (5x5ft) Mini Stall Tent
No Minimum Order

Discounts may be available for larger order quantities!

Pricing may vary based on quantity, print and delivery requirements. Contact us for your personalized quote today!
Product Highlights
Fully Printed 600D Polyester
(Water Resistant / UV Coated / Fire Retardant)

Kit Includes:
Printed Canopy
Hex Aluminum Frame
Ropes, Pegs & Carry Bag
These marquee tents are excellent for promoting your brand in a big and creative way! Setup is easy, instructions are included, and the canopy is interchangeable with both steel and aluminum frames.
Materials
600D Oxford Polyester Canopy
(Water Resistant / UV Coated / Fire Retardant)
We provide premium heavy duty 600D oxford polyester with anti UV coating. NOT 500D PVC or standard polyester like so many of our competitors use.
Superior frames and structure as standard
We can supply an economy frame marquee which offers an affordable, short term use product however in the interest of our clients, and the quality product that we endeavor to provide we offer the 45mm hexagonal heavy duty, commercial quality frame as standard. Manufactured from hexagonal aluminum section. These are designed to stand up to rugged daily use in any commercial or trade show environment. By stocking only superior level frames we are also able to provide a complete range of replacement parts in case your marquee becomes damaged.
Description
Construction Notes
Framework is made with anodized aluminum which provides endurance and strength while enabling easy and lightweight transportation. Designed to last longer and increase safety for people in and around your marquee. Also provided is non-breakable high quality nylon plastic accessories and joints with heavy duty reinforced ribs. Featuring a water proof, UV proof and fire retardant material, no tools are needed to assemble the marquee and requires only a 5 minute set-up.
Don't look anywhere else for your event display needs!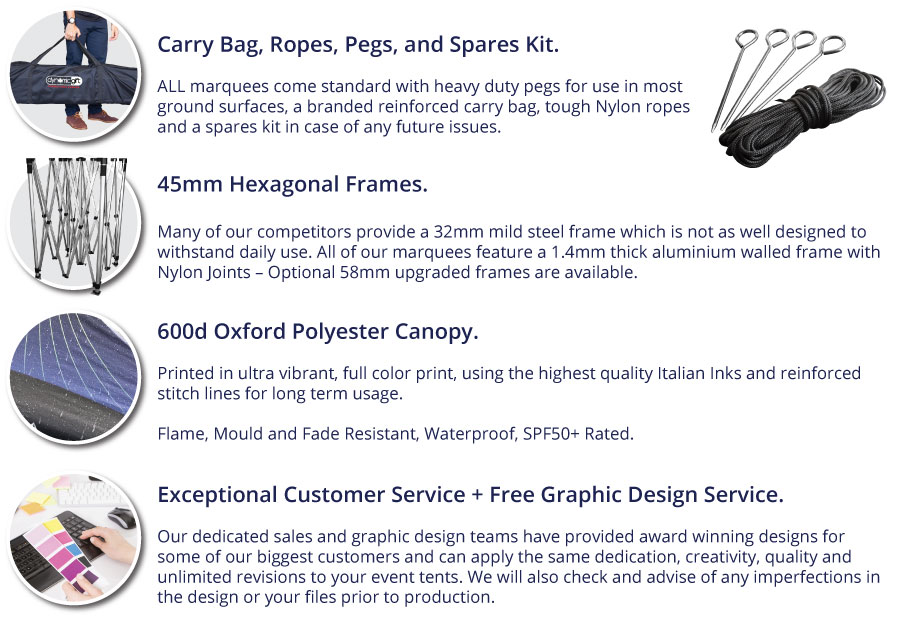 Comes in a complete kit!

Premium frame quality

Setup time
Less than 5 minutes
Size pictured
10x10ft (44lb / 20kg)

1.5x1.5 Mini Stall Tent Information
Are you looking to get yourself a tiny tent to cover for an event? Then stop looking because you have found it. This 1.5x1.5m tent is perfect for one person and the material is fire-proof. The added benefit of this small tent is the 3 sides available to guilt-free advertising. If you have a small space and lots of advertise, then this is for you. You can get brand names, slogans, logos, pictures and all kinds of fonts, big and bold, digitally printed and these will cater to all your advertising needs.
Using custom printed pop up marquee tents to advertise your business is much cheaper than advertising on the radio, television, or a billboard. Plus, you aren't competing with other businesses for advertising space. Anything can be your billboard whether it's a magnet, a ruler, a postcard, or even custom packaging. However, you want to make sure that saving your business money on advertising isn't at the expense of the promotional product's quality. A quality promotional product is indicative of a quality business. Order the 1.5x1.5 mini stall tent from Dynamic Gift Promotions Canada, the leading promotional products supplier in Canada and see your venture grow.
Popular Addons
Optional add ons and upgrades available with our tents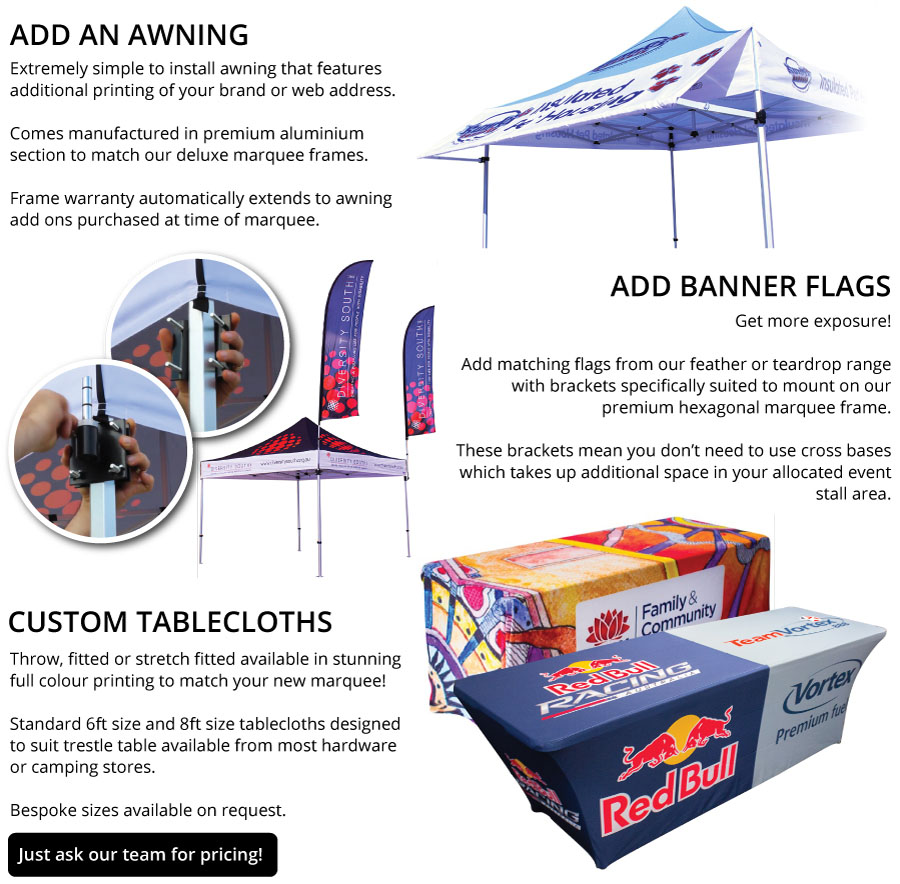 Pricing varies based on quantity,print and delivery requirements.
Contact us below for yourpersonalized quote today!