Need Help Selecting a Size? Consult Our USB Capacity Guide!
Check out how much data our USB drives can hold. We have put together a simple chart displaying the various capacity USB drives available and how much data that can store.
Always contact us before deciding on a capacity as our technical team can assist and offer advice on the best capacity to suit your needs. Many people choose to offer a pre-loaded file for their customers with information or advertising material. You may take advantage of our USB data services in order to accomplish this. While pre-loading data is handy, just remember that you want people to use the USB drive in their day to day activity. For this reason we always advise increasing your capacity requirement as a buffer.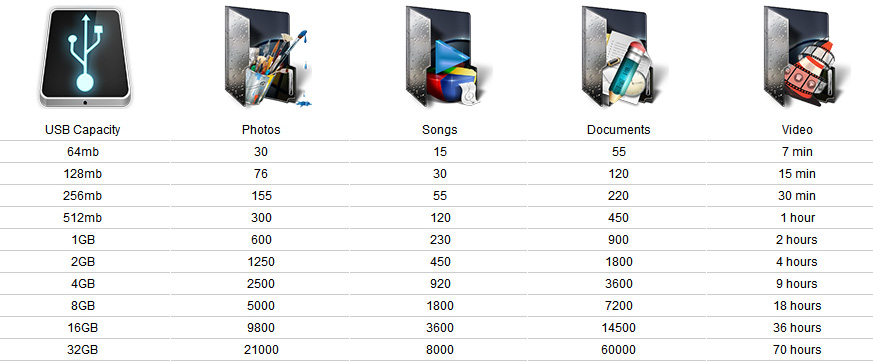 Photos are based on an average file size of 1.5MB
Songs based on an average file size of 4MB per 1 song (mp3 size)
Documents based on a combined average of a 50kb Word document, 27kB Excel spreadsheet, and 2.7MB PowerPoint presentation
Approximation for video playback at 768kbp/MPEG4. Actual time may vary based on resolution and compression methods used
Please note that file sizes are for indication only and are approximate.
Times change, and we understand that every customers needs are different and requirements vary greatly. Contact us to discuss your capacity requirements, we have technical experts on hand to assist with your questions and we are always available to chat about your needs.