3x3 Printed Marquee
Quick Overview
Our most popular size, the 3x3 Marquee provides fantastic branding size with a truly huge impact, standing out from the crowd with a great design. We have the ability to anufacture these marquees to any size with custom options such as walls, half walls, roofing, zippered doors and different colored poles all featuring full color print.
Easy to assemble, the 3x3 Marquee comes with everything you need to get it set up safely - including a handy carry case to store everything in neatly.
Details

Seup time
less than 5 minutes
Size pictured
3x3m (20kg)
Other sizes available
1.5mx1.5m, 2.4mx2.4m. 3mx3m, 3mx4.5m. 3mx6m. 4mx4m, 4mx6m, 4mx8m. 6mx6m
Construction Notes
Framework is made with anodized aluminium which provides endurance and strength while enabling easy and lightweight transportation. Designed to last longer and increase safety for people in and around your marquee. Also provided is non-breakable high quality nylon plastic accessories and joints with heavy duty reinforced ribs. Featuring a water proof, UV proof and fire retardant material, no tools are needed to assemble the marquee and requires only a 5 minute set-up.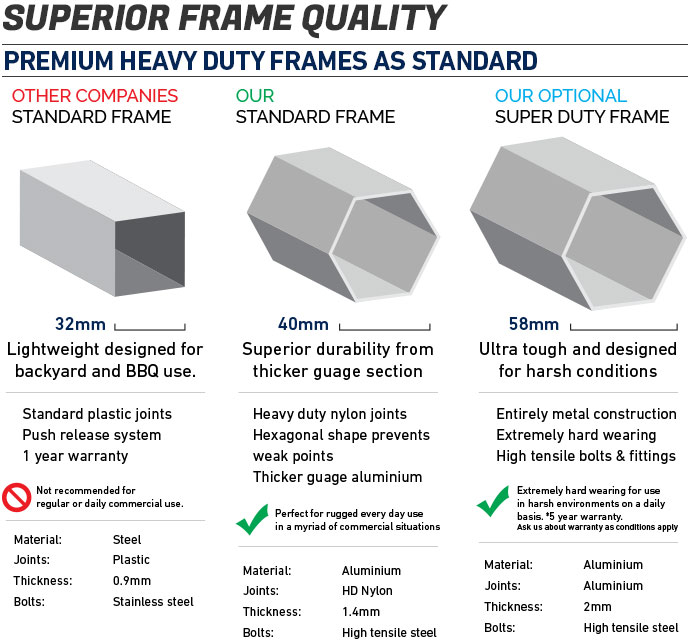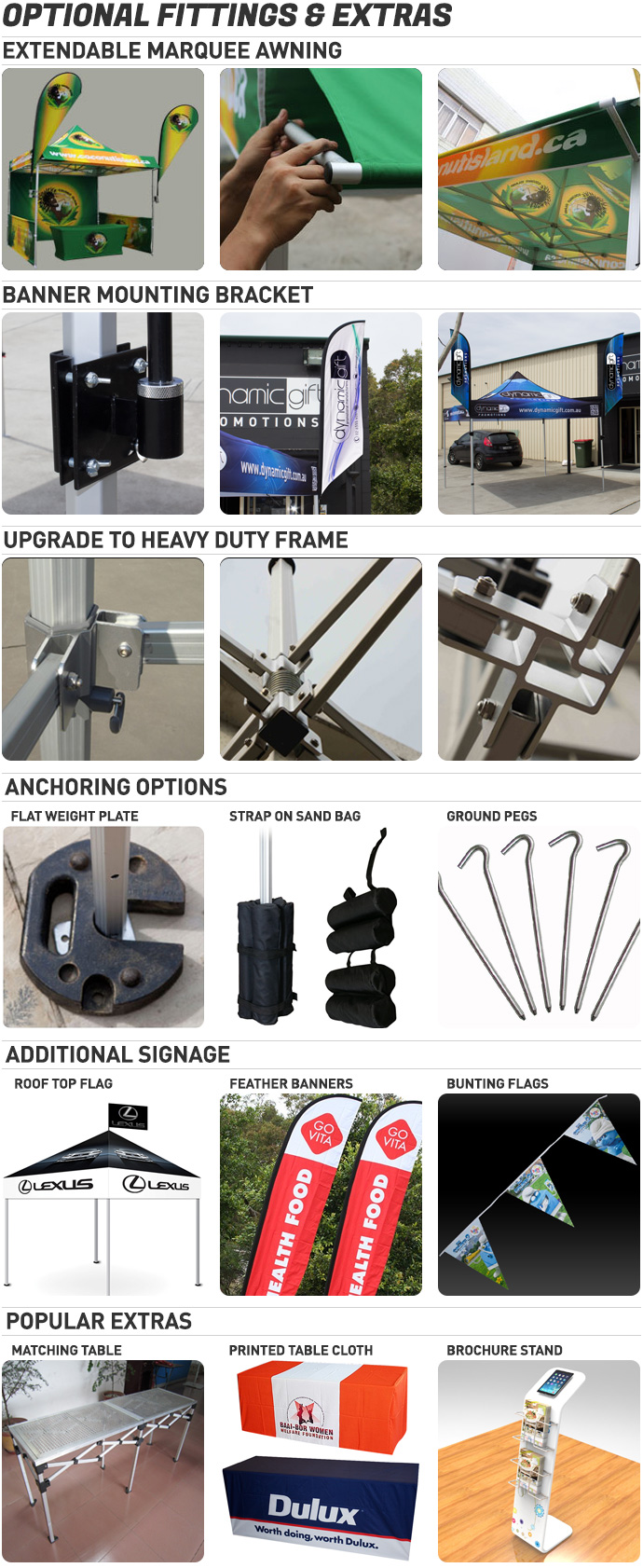 Additional Information
Top Right Description

Our most popular size, the 3x3 Marquee provides fantastic branding size with a truly huge impact, standing out from the crowd with a great design. We have the ability to anufacture these marquees to any size with custom options such as walls, half walls, roofing, zippered doors and different colored poles all featuring full color print.

Easy to assemble, the 3x3 Marquee comes with everything you need to get it set up safely - including a handy carry case to store everything in neatly.

Middle Specs Area
No
Long Bottom Description

Seup time

less than 5 minutes

Size pictured

3x3m (20kg)

Other sizes available

1.5mx1.5m, 2.4mx2.4m. 3mx3m, 3mx4.5m. 3mx6m. 4mx4m, 4mx6m, 4mx8m. 6mx6m

Construction Notes

Framework is made with anodized aluminium which provides endurance and strength while enabling easy and lightweight transportation. Designed to last longer and increase safety for people in and around your marquee. Also provided is non-breakable high quality nylon plastic accessories and joints with heavy duty reinforced ribs. Featuring a water proof, UV proof and fire retardant material, no tools are needed to assemble the marquee and requires only a 5 minute set-up.







Price

CA$149.00

Display Product Options In
Block after Info Column